Entertaining an energetic toddler with a short attention span can be quite testing at times so it is useful to have a few 'failsafes' in your pocket for when your little one needs entertaining and you're low on ideas.  Sometimes it's not possible to get outside, although I am a great believer in 'there's no such thing as bad weather, only the wrong clothes' or money is tight which limits the options available.
I've included my top ten for things to do in these circumstances, they may not suit everyone but they work really well for us.
Playing in the garden
We love being outside, even when the weather isn't great. We do have a few outdoor toys like a sandpit and some ride ons but Z is just as happy 'painting' with water on the patio, digging in the flowerpots ( he has special ones that are allotted to him) and 'helping with the gardening' especially with his mini watering can.  Toddlers like to feel useful so I try to take advantage of this as much as possible by giving him age appropriate tasks to do.
In the summer he loves to search for strawberries on the plants. He also enjoys writing with chalk on any available surface as well as hunting for 'wiggly worms and 'piders'. He can spend a happy half an hour (and sometimes more) throwing, kicking and catching any one of his various shaped balls to a willing participant.  There is so much to do outside!!
Visiting the Petshop
This is usually done at the end of a shopping trip as we have a large pet store in our town centre. Z loves to go and see the small animals  ('amnals') especially the rabbits and the different fish and water snails.
There is a vets located within the store as well so there is the added bonus of dogs and other animals passing through. We actually bought Z one of his favourite squeaky balls from the dogs toy section…..
Library
Our trips to the local library do tend to be quite short as I have a very active, boisterous and somewhat loud 2 year old! Having said that we can pass a lovely half an hour or so finding and reading books that we don't have at home.  I think it's really important to support local libraries as much as possible because they are a dying breed!
I try to get to the library at least once a month and will rent books if we find some that Z especially likes so we can read them at home.
Arts and crafts
Okay, so this isn't entirely free as you do need to have paints and other bits on hand. I like to use items from the recycling bins to reduce cost and reuse things in a creative way.  Z has a very limited attention span so  we keep it quick and easy.  Pinterest is my go to place for ideas and I will try to adapt them to suit my personal needs and tastes.  For example, we made these great toilet roll monsters!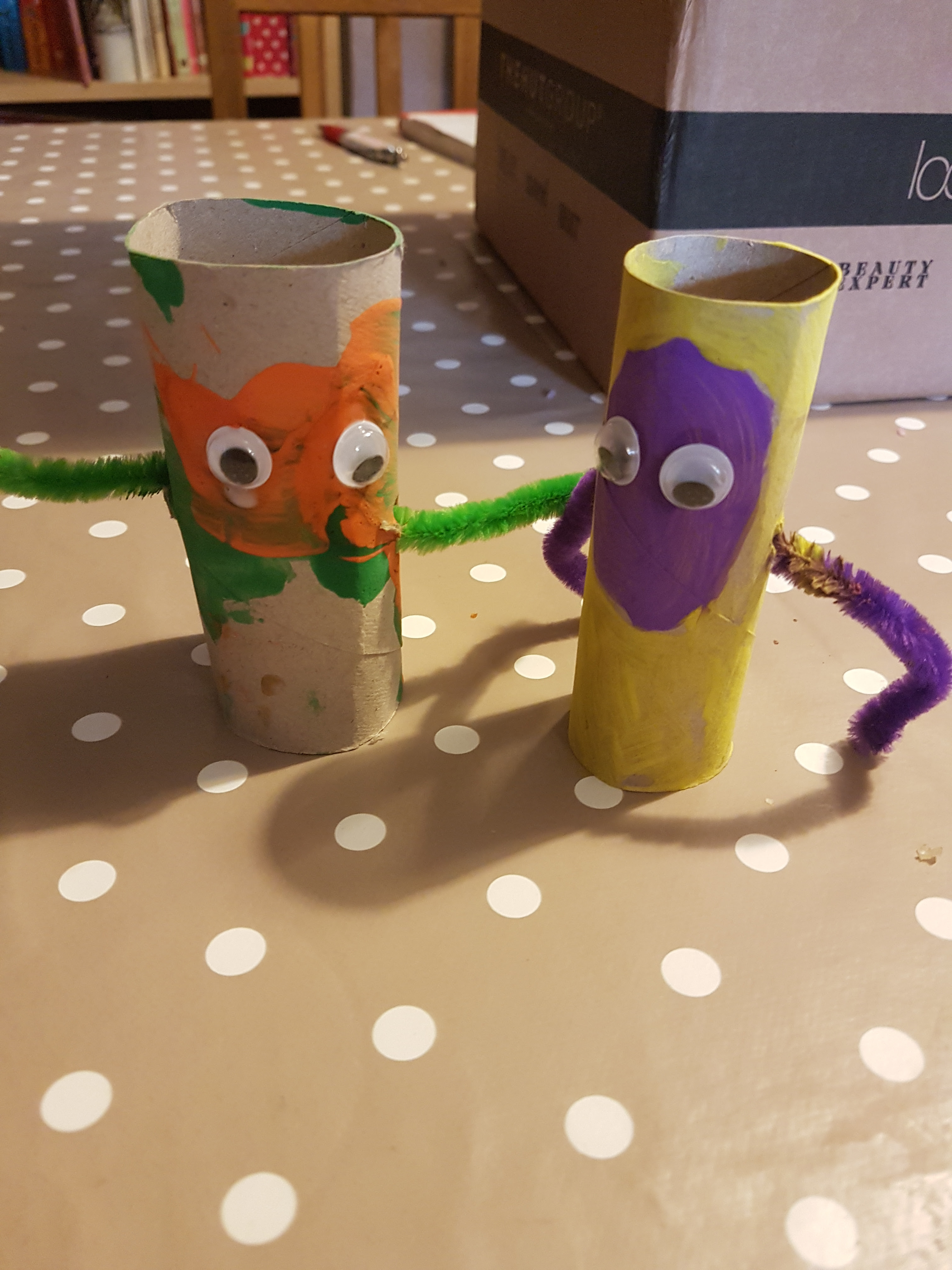 Baking
Again not entirely free but Z really enjoys helping with scooping, pouring and mixing which helps to develop dexterity and the measuring we do together will help with  his number skills.
Rice Krispie cakes, cupcakes and biscuits are our go-to items for baking together as they are nice and simple but I also let Z help when I am preparing dinner as he loves standing on his ladder in the kitchen  and has been known to eat his lunch from the work surface.
Homemade Softplay
Also known as jumping on the furniture! This involves taking the cushions of the sofa, grabbing pillows and duvets to create an obstacle course and using the play tunnel and tent that we have.  Z is a very active boy and this helps with his physical development and co-ordination as well a burning off some of his seemingly endless energy!
Toy treasure hunt
A really easy to set up and fun game to play in the house or garden. I will hide toy animals, dinosaurs, figures or cars around the house and take pictures on my phone of where they are. I'll show the pictures to Z who will go running off to find them.
This game is one he will play again and again, often several times in a row! It helps to develop observation skills which is an added bonus.
Visiting the Local Park
Our local park is absolutely brilliant. It has a large pond with ducks and swans, a fantastic playground which is suitable for children of all ages, a nature walk and a manmade 'stream.
Even with all of these fantastic activities to choose from, we sometimes go to the park and don't use any of it as Z hunts for sticks, insects, squirrels, jumps in puddles or plays hide and seek (his favourite game at the moment) amongst the trees.
We can easily spend an hour or two there without him getting bored and it is right on our doorstep!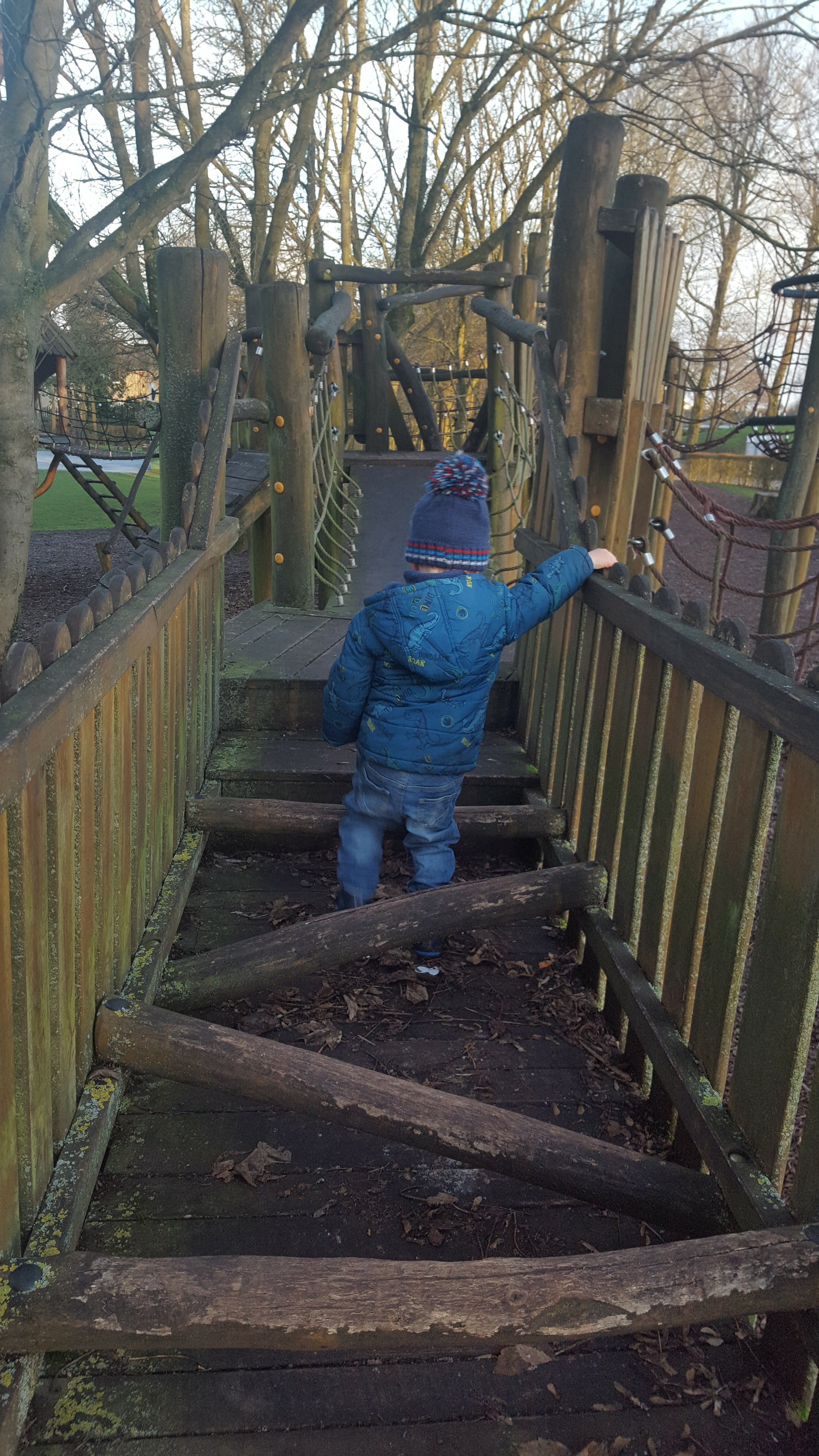 Nursery Rhymes
We are at the stage where Z's language has reached the point where he can happily enjoy singing along to his favourite songs and sometimes ad libs along the way. Incey wincey spider has become Incey Wincey Mummy/Daddy/Grampy/Granny and he often adds the names of his friends from nursery to 'Sleeping Bunnies'.
The great thing about nursery rhymes is that they really help with improving language skills so I am happy to sing them on repeat although I end up with them stuck in my head for the rest of the day which can drive me slightly insane.
Water play
In the sink, the paddling pool, the bath or his tuff tray with a big 'puddle', Z loves splashing around and 'helping' with the washing up.  We sometimes bath the dinosaurs, or put his cars through the car wash.  It does require some cleaning up afterwards and everyone gets a little damp but at least it is all nice and clean.
Final Note
Keep an eye out for free activities in your area. We are really lucky where we live and there are lots of free activities for kids. In the summer our local town has a huge sandpit in the middle of the shopping centre (it's covered every night) and our library has a free 'wriggle and rhyme' session on Friday mornings.  There are often seasonal free events taking place so I try to keep an eye out on my local Parents Facebook Group and if 
Standbrook Guides
 covers your area then they are a really useful source for finding free events in your area.